What is Art Therapy?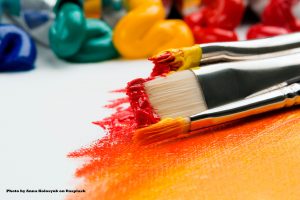 "Art Therapy combines visual and psychotherapy in a creative process cuing the created image as a foundation for self-exploration and understanding. Thoughts and feelings often reach expression in images rather than in words. Through the use of art therapy, feelings and inner conflicts can be projected into visual form. In the creative act, conflict is re-experienced, resolved and integrated. Art therapy can be used with individuals, groups, or families as either a primary or adjunctive therapeutic mode in clinical, educational and rehabilitative settings. People of all ages can benefit from art therapy and previous art experience is unnecessary as the focus is on personal expression. Art therapy is not only for people experiencing emotional difficulty –- it can heighten creativity and enrich life" – British Columbia Art Therapy Association
How does Art Therapy work?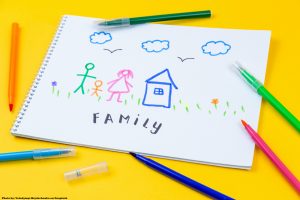 Art therapy is a supportive healing practice that can help process thoughts and emotions and benefits the mind, body and soul. For it to be psychotherapy, three elements MUST be present: a client, artwork and an art therapist (or therapeutic relationship). An art therapist is trained in art assessments and evaluations and provides purposefully chosen and curated art materials to meet the therapeutic goals of the client. Each tool or material has a specific therapeutic and psychological effect. Art Therapists also require a graduate level degree or diploma in art therapy and must be a part of an association, such as the Canadian Art Therapy Association or the Ontario Art Therapy Association.
Art making is a multi-sensory process that involves sight, touch, hearing, and sometimes smell. This can have a calming and centering effect by regulating breathing, heart beat and the muscles. This involvement can also cause a client to become more in-tune with and grounded in the present moment, reducing depression and anxiety which can be caused by dwelling too much in the past or future.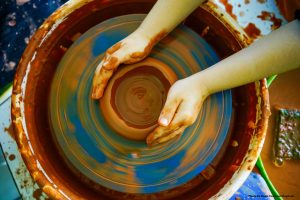 Art therapy allows clients to communicate in a nonverbal way which can be safer and easier as memories are often stored as images. By allowing clients to work in metaphors and creating "distance" with the memory, it can empower them to see pain, transform it and create new meaning.
Art therapy activates both sides of the brain which allows access to subconscious memories or trauma that are stored in the right side of the brain.
Art therapy is about the process of creating and experience and has very little to do with the finished process. Therefore, it can be accessed by anyone without any prior art involvement. It facilitates a client's inherent creativity and promotes the expression of feelings which improves and enhances physical, mental and emotional well-being. It is life affirming and can help resolve conflicts, improve interpersonal skills, manage problematic behaviour, reduce negative stress, and achieve personal insight.
Anyone can benefit from art therapy, from very young children struggling to convey their emotions, to adults who may be working through unresolved traumatic experiences.
lindsay kuiack

Lindsay is an Art Therapist and Registered Psychotherapist (Qualifying). Studying at the Toronto Art Therapy Institute, Lindsay was able to combine her love for art and her passion for helping people find healing. Her journey began at Catch the Fire's School of Ministry and continued at York University where she received her Bachelor of Fine Arts. Lindsay believes in the healing power of Jesus and that healing, like art, is a process. She has worked with a variety of populations including women in a bereavement group at a retirement community, Freeport Mental Health unit and children with behavioural challenges. She resides in Perth East with her family on a small hobby farm.