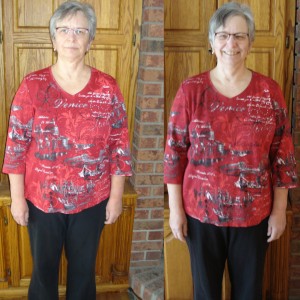 "I have reached my goal weight! It is quite an accomplishment. I began the Metabolic Balance plan the middle of November and have lost 20 pounds.
After years of trying on my own, I came to the conclusion that I cannot lose weight on my own. I tried another plan this past summer that did not work for me. This was discouraging until I heard about Metabolic Balance from Melissa at a staff meeting. I read about it, saw my doctor and decided to try it. What I particularly liked was that my food plan was suited to me, according to the results of my blood tests.
Coaching is a great benefit of the plan. Over Christmas I totally blew the whole plan. My coach was particularly encouraging at that time and fully expected that I would continue with the plan, which I did. Another very helpful benefit of the plan is that there is a sheet of paper with a specific plan for eating – foods and amounts – that I can return to when I cheat. And I do cheat. But I don't berate myself the way I used to. There is a plan waiting for me to use that is easy to follow and works.
The inclusion of a 'treat meal,' red wine, and dark chocolate is indeed a treat. And the next day, the plan is there for me to follow.
I really wanted to lose weight. I was tired of the extra pounds that had slowly crept on over the past 10 years or so. I wanted them gone. Truth be told, I weighed 20 pounds more than I had when I was full term with my oldest child 37 years ago. I suspect there has to be a complete willingness to lose the weight in order for the goal weight to be reached.
There are physical benefits from following the Metabolic Balance plan. I no longer take my joint supplements because my joints are not as bothersome as they once were. They are not perfect; that won't happen, but I suspect they are less inflamed because my diet isn't as inflammatory.
I have taken migraine medication for years and have noticed a definite decrease in the amount of meds I need within the last two months.
My digestive system is not irritated when I stay on the Metabolic Plan. I have always suspected certain foods were irritable for me and now I clearly know what they are. Sometimes I will eat them, but not on a regular basis.
In my experience Metabolic Balance is a healthy plan that works. Losing weight is never easy; there are temptations all over the place. It takes perseverance to change one's eating habits, but I have learned as I continue on the plan and it is no longer a challenge to plan my eating. The rewards are worth keeping at it. Having a coach helps considerably when I feel stuck or that I have blown it."
~D.L., Bayfield, ON