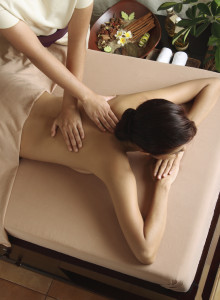 In today's busy world stress (physical, mental or emotional) can cause the human body pain.  Whether your stress originates from family life, your workplace, sport injuries, or major illnesses, message therapy is an impressive tool to help you relax so that you can better cope with challenges.  It is also a powerful mechanism to help you manage and maintain a healthy, balanced lifestyle.
By definition massage is manipulation of the body's soft tissues, performed by a trained, knowledgeable practitioner, in a safe, non-threatening environment.  Through the use of touch message therapy will either invigorate or relax the muscles of the body to promote tension-release and healing.  Purposeful and targeted message therapy techniques can help you deal with many common ailments such as:
Stress
Headaches
Back aches
Fibromyalgia
Joint Pain
Arthritis
Chronic Pain
Minor Aches & Pains
BY PEACEFUL WATERS WILL OFTEN RECOMMEND MESSAGE THERAPY AS PART OF A HOLISTIC APPROACH TO DEALING WITH MENTAL AND PHYSICAL STRESSES. 
Therapy options:
Our Massage Therapists belong to accredited and reputable institutions such as the College of Massage Therapists of Ontario (CMTO).
The most common types of massage therapy we offer include:
Swedish (Traditional) Massage Therapy-Aromatherapy Massage
Hot Stone Massage
Deep Tissue Massage
Pregnancy Massage
Reflexology
Sports
Back & Neck
Acupuncture
What to expect on your first visit:
Your first visit will consist of a consultation and assessment with one of our trained message therapists.  We will discuss your history of health and design a personalized treatment plan.   We will address any questions you may have, such as how to prepare for and what to expect during your first massage.   After your assessment we will schedule your first massage.