Living and Coping with Depression is a 4-week Group Therapy Program coming to Arthur, ON this spring.
If you've ever said or thought any of the following, then this program is for you.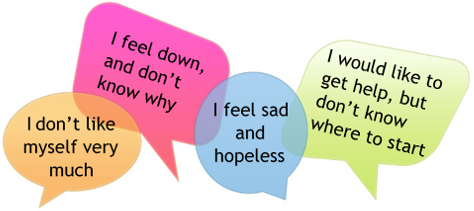 Depression can affect anyone from any background at at point in time.
Whether you:
have symptoms of depression
have been diagnosed with depression
don't know where to seek help
are not sure what the next step might be
We want you to know that you are not alone, and invite you to join our group therapy program.
During the course of the 4 weeks, the sessions will explore the causes of depression, and introduce tools and techniques (Cognitive Behavioral Therapy) that can help you manage its negative symptoms.
The sessions are scheduled for:
Dates:    May 15th, 22nd, 29th and June 5th, 2018
Time:    10:30am to 11:30am
Where:  Father's Heart Healing Ministries
101 George Street, Arthur, ON
Cost:      $120 (plus HST) for all 4 sessions
Call us today to register