A Hold Me Tight® Relationship Enhancement Workshop
for Christian Couples
Repair, enhance and continually grow the connection in your love relationship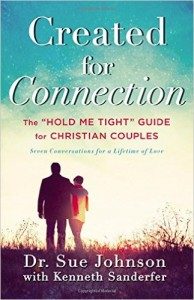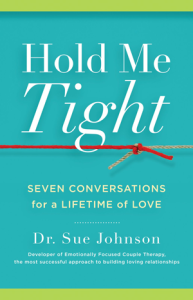 "Romantic love is all about attachment and emotional bonding. It is all about our wired-in need to have someone to depend on, a loved one who can offer reliable emotional connection and comfort. Love is not the icing on the cake of life. It is a basic primary need, like oxygen or water. Once we understand and accept this, we can more easily get to the heart of relationship problems." – Sue Johnson
Marriages do not fail because of financial problems, too much fighting, conflict, or lack of sex. Research shows the primary reason your marriage is most likely to fail is because of a lack of positive emotional responsiveness and affection. The knowing smile has disappeared. Gone are the gentle touches or spontaneous hugs. We were created for connection. We were created to love. When our love connections are not secure, we hurt.
"A deep sense of love and belonging is an irreducible need of all people. We are biologically,
cognitively, physically, and spiritually wired to love, to be loved, and to belong. When those
needs are not met, we don't function as we were meant to. We break. We fall apart. We numb.
We ache. We hurt others. We get sick." – Brené Brown
The goal of this workshop is to help couples repair, enhance, and continually grow the connection in their love relationship. No matter the stage of your relationship, married or not, this workshop will teach you and your spouse how to connect emotionally to create the relationship of your dreams.
Learn what drives distress and distance
Understand the logic of emotions
Identify, recognize, and stop that negative repetitive pattern
Create safety so you can complete conversations
Recover, repair and forgive emotional injuries
Enhance your sexual intimacy
This couples' workshop consists of eight 2-hour sessions over two Saturdays. This educational program is based on the theory and practice of Sue Johnson's Emotionally Focused Couples Therapy. It follows the format of her books; "Created for Connection" and "Hold Me Tight: Seven Conversations for a Lifetime of Love", and covers:
Week 1 
Understanding Love and Attachment – Introduction
Recognizing The Demon Dialogues – How Love Goes Wrong
Finding the Raw Spots – Identify stuck points and begin to make sense of your own and your partner's emotions and needs
Revisiting a Rocky Moment – Learn how to talk about hurts and repair rifts in your relationship
Week2
Hold Me Tight – Engaging and Connecting – Communicate to develop deeper understanding and closeness
Forgiving Injuries – Learn how to repair and forgive emotional injuries
Bonding through Sex and Touch – Deepen your emotional and physical connection
Keeping Your Love Alive – Create rituals and care for your relationship
Note: It is recommended that you obtain and read either "Hold Me Tight: Seven Conversations for a Lifetime of Love" or "Created for Connection: The "Hold Me Tight" Guide for Christian Couples" prior to attending the workshop.
Please contact us if your Church is interested in hosting a Created for Connection Workshop.
Details of upcoming workshops will be posted on our news and events page, and you can also be kept informed via our newsletter when you join our mailing list.
"Hold Me Tight®" is a registered trademark to Sue Johnson.