Parenting isn't just managing kids' behaviours, but it is investing in and Connecting with our kids so they can THRIVE in this world!
If this is what you are longing to do, join Hilary Diouf, our Positive Parenting Educator, for an Online Parenting Workshop that will allow you to reduce conflict and restore harmony in your home.
Register Today!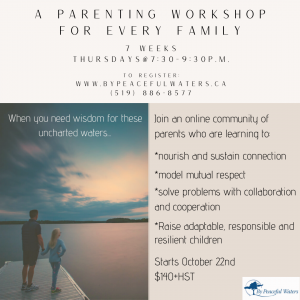 October 22nd – December 3rd 2020
7 Thursdays from 7:30-9:30 p.m.
Hosted online
$140+HST per household
You can register online below, or by calling 519-886-8577 or email us at mail@bypeacefulwaters.ca
Watch this video and choose To make an investment in your Family today!
To complete your registration to participate in the 7-week workshop, payment should be sent either by: