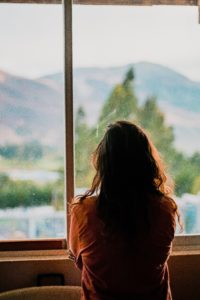 It can be very concerning and difficult in times like this, when our world is upside down and we are feeling totally helpless and powerless.
But it is so wonderful to know that our great and faithful God is still in control!  He created us to attach to each other in mutually interdependent ways and to cover each other in love and security.  To be each other's secure base.  The place to come home to.
Our families and friends are sooo valuable to us and are interwoven in our lives in a way that cannot be separated.  Maybe this time of trouble and transition can be the starting point of rekindling our deep connections with each other, and if we cannot do it face to face, we may be able to start to connect by phone, text, or other types of video conferencing.
This season of plague and sickness shall soon pass, and this crazy, upside down world will straighten out again but as we navigate through it, our faithful Heavenly Father may be calling us to stop and smell the roses.   Remember, we're all in this together.  We are not alone!
A Travel Agency, CWT, sent through email these suggestions for staying connected that I think are delightful:
Read a book or two.
Play a board game with your family or online if you live alone.
Learn a new language – check online i.e. Rosetta Stone or Babbel.
Watch some old movies that you've always been wanting to see again but haven't had the time.
"Call or email family and friends who live in other cities or provinces or video chat with those you know and love. While the near future remains uncertain, let's be kind to each other and make sure we are all getting through this together."
I would also suggest several other recommendations:
Take virtual tours on the internet of famous and interesting places, like the Smithsonian Museums, the Louvre and others.
Build a Lego creation.
Get lots of sleep.
Eat nutritional meals to keep your immune system working well.
Take a walk – stay active.
Light some candles and enjoy an essential oils diffuser.
Listen to your favourite music.
Try online dancing.
Take up a new hobby or learn to play a musical instrument.
Get a head start on some Spring cleaning – that room you've always been wanting to get to but never can.
Take this time to increase our intimacy with the Lord Jesus.   It is often in times of trouble and stress, when the noise and busyness of our lives decrease, that we are able to hear His voice more clearly.  He wants to meet with us as we pray, meditate, journal, and read His Word.  He is welcoming us to spend time with Him as His beloved.
Psalm 91 is a favourite passage for me, especially in times of difficulty.  It is called a spiritual warfare Psalm where our great God promises us His Presence, safety and protection.  Maybe this is a personal time for you "for such a time as this."
We pray God's richest blessings upon you and yours as we walk through the water and fire together, with the faith that He is protecting us and never leaving us.  And that He loves us so much that He will manifest His glory in and through us in this very difficult season of our lives!